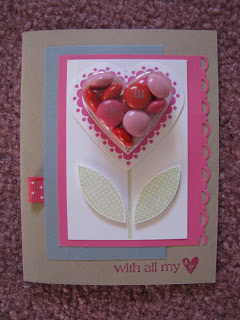 Happy Monday (is that even possible??)… Can you tell I'm disliking Monday this week? That usually happens when I feel like I didn't get as much done over the weekend as I had wanted.
I wanted to put Christmas away for another year, but it looks like Christmas will continue to reside at the Pitta House for another week! Yikes… our poor little tree is drooping so much that most of the ornaments on the bottom branches have fallen off or they are dragging on the floor. Oh well…
Anyway, each month I have two groups of ladies that get together for a "girls night out" and make 3 to 4 projects, chat and eat with friends.
This month this card is one of the projects the ladies got to make (don't worry stamp club #1 — you'll make it at this week's meeting!). It features the new heart treat cups and the special "Sweetheart" stamp set that was released especially for these heart shaped cups (we released circle cups in the Holiday Mini last fall).
I have to say that I even impressed hubby Matt with this card… he looked at it and started to give me that customary "that's nice" response and then took a second look and said, "wow". Of course his next question went back to the practical… "how do you mail that?" It's ok though I'm excited that he took a second look … that's an improvement! lol!
If you'd like info about starting your own stamp club, feel free to e-mail me. Thanks for stopping by today!