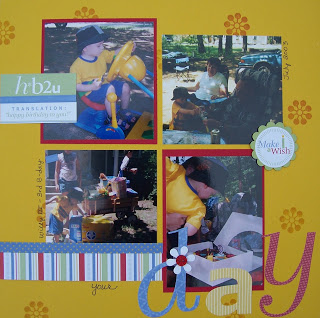 Here's another simple page using the Happy B-Day Simply Scrappin' kit. Not really a background color that I would usually pick (a little loud), but in real life it actually doesn't look bad. I've been trying to use up as many of the supplies that come in a Simply Scrappin kit as I can for a Scrapbooking 101 class that I am teaching at the Harwich Council on Aging on Friday.
I still have plenty of paper and embellishments left so I can probably get a few more layouts and a card or two out of it… we'll see.
Stampin' Up launched a new
"Clearance Rack"
section of the online store. These items are retired items for the most part and are at a HUGE discount (as much as 80%)! They are while supplies last and are only available on the website. Click
here
to go to the store and check it out… anything you purchase will be sent directly to your house… think affordable Christmas gifts if you have friends that are crafters! There are some really pretty ribbon sets, Designer series paper, rub-ons and more. Plus some retired ink colors if you find yourself kicking yourself for not getting one of the former "In Colors".
Let me know if you have any questions and thanks for stopping by today! (I promise to try and be better about blogging a little more regularly…)