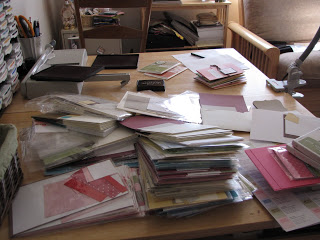 Someday I will become this super organized, non-procrastinating, always on top of the ball, plan ahead type of gal. But not today. Not this week. Not this month!
Now don't get me wrong… I am super excited to have been so busy for the month of March — I am well on track of making March 2010 the best month of my entire four years as a SU demonstrator… but let me tell you being busy makes me messy! lol!
This is my desk top right now. It is filled with card samples to be made, kits to be packed for workshops, clubs and events and who knows what else is under that pile!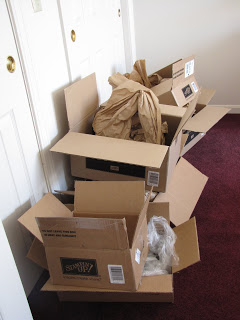 I also need to go to the dump. This is the pile of Stampin' Up boxes from the past couple of weeks… that's a lot of orders… and I'm expecting more this week and probably a few more in the last couple of weeks in March, too.
I am truly blessed to have such a growing business in a time when many other business owners are struggling.
Of course, those of you that are regular customers of mine know Sale-A-Bration has been a wonderful boost to my business (as always). I've seen so many of you at the 16 events I've had during Sale-A-Bration.
Many of my customers always comment on how I find time to do all of this in addition to my 40-hour-a-week "real job." I get so much happiness and meet so many incredible people through Stampin' Up… I can't imagine NOT doing it! It's not work … it's just fun. AND I make extra money doing it… I've been much better in 2010 about not spending as much on stamps and supplies just for myself. I'm actually very close to paying off my credit card and have even bought myself some new toys (outside of stamps!) using my SU money.
This is the note that greets me each time I open a box since Sale-A-Bration started: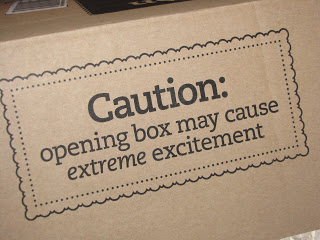 Isn't that funny? And it's true — even after 4 years as a demonstrator I still get excited when I get a new box of goodies!
Anyway, this long, round-about story is really just to say THANK YOU to each and every one of you that has supported me and my business. I am truly grateful.
Don't forget if you'd like to see how Stampin' Up can change your life, you still have a couple weeks left of the Sale-A-Bration promotion of 15% off the starter kit and you'll receive an additional free stamp set with it, too! That's about $400 in product and supplies for just $169.
Feel free to call or e-mail me if you'd like to learn more.
For those of you in my neck of the woods (the Northeast)… enjoy the sunshine!