I can't believe how quickly time flies by… it seems like yesterday that my niece looked like this: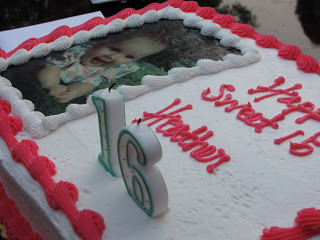 See that cute little picture of her printed on her "sweet 16" birthday cake! She was about 9 mos. old. It's amazing that we are celebrating her 16th year of life!
On Saturday we had a surprise birthday party for her with tons of family and friends and she had no idea! This was her timid walk around the corner when she caught on that something was going on….
My sister had created a great collage of six photos from each of her birthday parties for the past 15 years. She promptly noticed the naked butt photo from her 2nd birthday with a "Really, Mom?"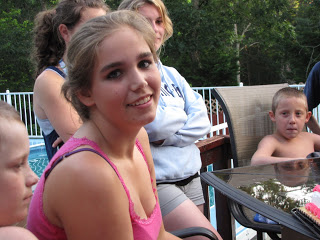 It is so hard to believe that this is the grown-up version of my little niece that I bragged about as a senior in high school. I was just a year older than her when she was born! Crazy! Happy Birthday, Hay, Hay! (that was the nickname for herself because she couldn't say her own name!)
The sad news. It's days like Thursday when I hate to be a news reporter. As a reporter, I talk (or e-mail) with Yarmouth police Lt. Steven Xiarhos almost every day or at the very least once a week. I had just talked to him on Wednesday about the "Ride for the Fallen" event he was organizing to raise money for the wounded warrior project. He was pulling people together to ride from Dennis to Wellfleet (30 miles) to raise money for the organization that provides assistance and funding for wounded members of the military.
The day after I spoke with Lt. Xiarhos, he lost his son during a combat battle in Afghanistan. Nicholas Xiarhos knew being a Marine was his calling when he signed up for the military just 10 days after his high school graduation in 2006.
It's such a tragic end to such a promising life. And while he was doing something he was so dedicated and committed to, it doesn't make it any easier for the family and friends left behind.
I hope the huge turnout at the "Ride for the Fallen" event (which had since been dedicated to Nicholas) helps bring some comfort to the family and friends of Marine Cpl. Nicholas Xiarhos. My thoughts and prayers are with them all.