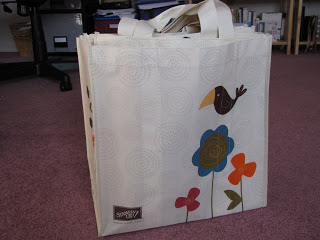 Is this not the most adorable bag you've ever seen? I LOVE it. It's a reusable shopping bag featuring the Sweet Pea designer series paper that is in the new occasions mini catalog.
I purchased six of these bags (one for me, of course!) at the Leadership conference in Phoenix, Arizona last week. The bags completely sold out within three days — so they are no longer available for puchase by demonstrators.
But, lucky for you, I have FIVE that I am going to give to the first five people who book a Sale-A-Bration workshop with me (workshop must meet the minimum workshop total of $150 in sales)! I'm debuting a new format for my workshops (which I learned at Leadership) and the five lucky hostesses will get a hostess gift delivered in this adorable bag on the night of their workshop.
This gift is in addition to the hostess benefits already offered through Stampin' Up, including Sale-A-Bration rewards!
Not familiar with Sale-A-Bration? Here's how you earn free products:
1. Spend $50 and earn one free Sale-A-Bration product of your choice
2. Host a workshop of at least $300, and earn one free Sale-A-Bration product in addition to the generous hostess benefits.
3. Join Stampin' Up during Sale-A-Bration and choose a free stamp set from the Idea Book & Catalog (valued up to $47.95) and get 15% off the demonstrator starter kit!
You can see the exclusive Sale-A-Bration product here.
I was so inspired at the Leadership conference that I made a goal to have one workshop a week during Sale-A-Bration. These are the dates I currently have available:
Thursday, Jan. 28
Wednesday, Feb. 3
Friday, Feb. 5
Wednesday, Feb. 10
Thursday, Feb. 11
Thursday, Feb. 18
Saturday, Feb. 20
Friday, Feb. 26
One other thing: For the first time this year, I will be offering a Hostess Appreciation Night to honor my hostesses that held workshops beginning in January 2010. So if you host a workshop you will automatically be invited to the first ever event — and I guarantee it's one you won't want to miss!
Feel free to email me if you'd like to reserve your date or if you have any questions… thanks for stopping by!