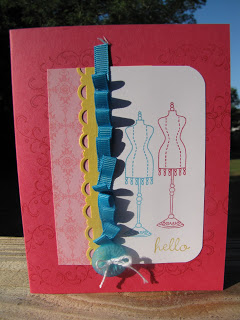 It's not that I wanted to stray from my Christmas parade of card ideas… I've actually been stamping up a storm of new cards for next week's card class — but I've been so busy stamping (well, and working — dang job always gets in the way!) that I haven't had time to take photos of my new creations and upload them!
Tomorrow. I promise!
Anyway, today I thought I'd show you this cutie, which was actually a card design from one of my stamp-a-stacks this summer. It uses one of my favorite sets Chic Boutique (I have to pull that out again — Oh wait — we're on Christmas!!! lol)
I wanted to have a sewn looking so I ruffled the ribbon along the card using sticky strip (this was before I had my adventures in sewing so now I could probably really sew it!)
Well, that's probably all for today — it was a busy day as it was Stampin' Up's first Book-A-Thon event. I booked two workshops today and I'm so excited to share SU with some new friends!
See you tomorrow….