On Friday I left my camera bag at a restaurant in Hyannis. Fortunately I had the camera with me, but unfortunately the cord to download photos to the computer was in the bag. Long story short, I was unable to get any of the photos I had taken off the camera and onto the blog!
Ugh… it's always something with me, huh?
Well, now that I've got my downloading capabilities back I've realized that I've been quite crafty this week (part of that is because I have stamp club and a workshop this week!). I even managed to sneak in a few projects just for fun! Imagine that :o)
I purchased some of Stampin' Up's new Simply Adorned chains and charms last month and finally got around to stamping my 1″ X 1″ charm for my necklace. What do you think?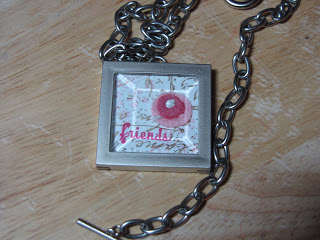 I did another version first, but I liked this one better (I bet you want to see the first version, huh? Well, some things are not blog-worthy my friends! lol!).
Anyway, I used one of the small Sweet Pea Stitched Felt flowers from the Occasions Mini Catalog as an accent as well as the tiny tags stamp set and the very vintage jumbo wheel.
The 1″ X 1″ charm has a raised glass so you can add some depth to your tiny masterpieces. The great thing about this necklace is that you can switch out the inserts to match whatever outfit matches your mood (and we all know that can change by the moment right? — at least mine can!)
AND with a 1″ X 1″ canvas you could stamp yourself up a new insert in just a few seconds to match whatever colors you are wearing! Cool huh?
I also bought the charm bracelet and a couple of charms for that, too, but haven't played with those yet.
Well, I need to get back to cutting cardstock for my Brewster Stamp Club tomorrow night. Thanks for stopping by — and don't worry I've already downloaded all my photos for the next few days so the posts should be a little more regular now!