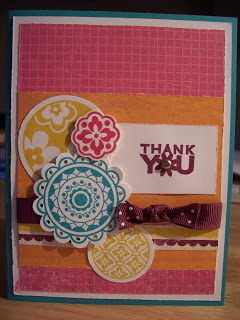 I was playing with my new toys again last night and came up with this fun, bright Thank You card (I'm always needing Thank you cards!).
It features the new Circle Circus stamp set (The "thank you" is from the Wow Flowers stamp set) and the Razzleberry Lemonade Designer Series Paper from Stampin' Up! It also uses the reversable Polka dot ribbon that comes in all of the new In Colors (here it is pictured in Rich Razzleberry). All of the new products will be available on July 1. Call or
email
me if you'd like to pre-order a copy of the new 2009-2010 Stampin' Up Idea Book & Catalog. You know that's always a great "read"! ;o)
The colors shown on this sample include most of the new In Colors including Rich Razzleberry, Crushed Curry, Melon Mambo, Dusty Durango (the orange) and Bermuda Bay (sorry, Tracy, I forgot there was a blue!). The only color I missed was the Soft Suede.
Hubby has to do some work today, so I'm hoping to get some more time to play with more of my new goodies… although having the sunshine out for the first time in like a week, may prevent me from hunkering down inside… still not sure about that. Hope you enjoy the sunshine… thanks for stopping by!