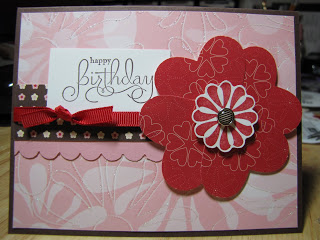 I realized today that I am only one week away from taking my first plane trip all by myself! That also means that I am waaayyy behind in making my card swaps for my first Stampin' Up Leadership event!
I have to be honest I'm very nervous about this adventure, which includes catching connecting flights both to and from Phoenix! — but I am so excited about attending Leadership… it should be very inspiring and motivating…
I still haven't decided what I want to do for my swaps… but I'm hoping to play some more tonight and I guess I'll have to be a little more focused on creating a card that is easily mass-produced.
Anyway, on to my next sneak peek card… This card uses the Sending Love Designer Series Paper featured in the new Occasions Mini Ccatalog. It also used the our new Sending Love Epoxy Brads (the 1/4″ Chocolate Chip version… there are also 1/2 inch versions in Pretty in Pink and Real Red). I made the flower using my full heart punch and arranging them in the form of a flower. Then I stamped the center flower using the new "With All My Heart" stamp set and used the epoxy brad as the center. The sentiment comes from the new "Well Scripted" stamp set that features words for a variety of occasions including Mother's Day, Father's Day, Easter, Congratulations and love.
I'm having a hard time refraining from buying MORE stuff from the new mini catalog — there is so much in there that I want… I hope you find the new products as exciting as I do! The new catalog goes live on my website on Jan. 5 — be sure to check it out!