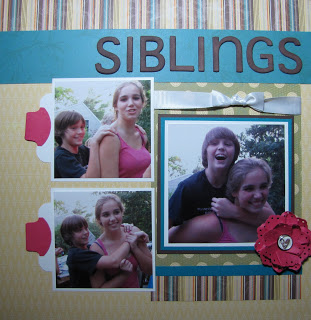 Well, I didn't make my 6 page quota for the first month of 2010, but I managed to squeeze one more out this weekend for a total of 3 pages for the month of January.
I'll have to work extra hard next month to catch up! But anyway, I've had these pictures of my niece and nephew on my desk for quite some time now — since August actually.
I love the photo on the right. These were taken at Heather's sweet 16 party last July and I absolutely love them! The one on the far right just shows their true personalities and that they really do love each other (gasp!) …
I haven't added the journaling yet… that will go on the tabbed tags on the left hand side of the layout. And then you will see another one of those paper flowers made with a border punch.
The page also uses my FAV-O-RITE new SU paper — the sweet pea paper pack. So versatile!
Now for once, while I had the paper and scraps left out on my desk I actually used a few of them up to make a card.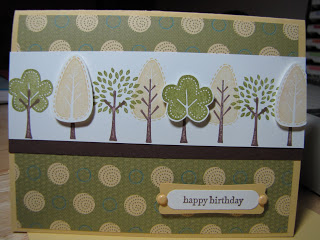 Just a quick birthday card (who can't use more of those???). I also left the scraps out on the table so maybe I'll be able to create a couple more cards with the scraps before I move on to planning stamp club for February! I'll keep you posted.
Thanks for stopping by!