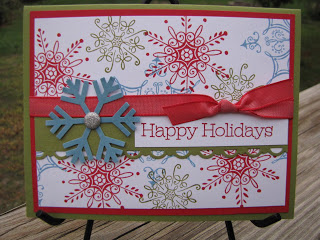 I'm really missing the sunshine these days. This is day four of rain for us here on Cape Cod. And while I miss the sun, I have to say that the rain always makes me feel less guilty when I stay in my room stamping — which is on the agenda (hopefully) today.
Sadly, I do have to go out into the cruddy weather a bit today as I didn't get out yesterday and do some of the shopping I need to do (I have a hole in my favorite well-well-worn jeans!).
Todays card is a bright holiday card that generally isn't my style. When I host my card classes I do try to make a variety of styles of cards as everyone likes different things. This one actually almost got axed from the line-up as I just wasn't that fond of it (it's growing on me, though). It's a good thing I kept it in though as it was a class favorite! See you never know.
I used Serene Snowflakes for the stamp set (with Many Merry Messages for the greeting). I love the snowflake punch and then of course I also used the scallop trim border punch, too. It's actually a relatively simple card. This set is perfect for creating your own patterned paper — you can pick any colors that match your project and stamp away!
Well, that's it for me today. Don't forget though I am in the middle of my blog post a day for 31 days contest — so at the end if I make it all the way through I will pick a winner from all my comments during the month for a crafty care package. So be sure to comment on the blog-o — the more comments, the more chances to win!
Of course, if I fall off the wagon and don't post one day — be the first to e-mail me and let me know I missed a day and you will win the crafty care package! (Please wait until the morning after the day I miss to e-mail — sometimes I post late, late at night — you know I like to procrastinate!)
Have a great day… and don't forget to check out the recently updated
Clearance Rack
!