So I was playing again in the scrapbook room and wanted to create another Progressive Scrapbook Page — meaning I started with a 6 X 6 layout, turned that into a 8.5 X 11 layout and then finally made a 12 X 12.
As I mentioned in this post, I like doing this sometimes when I'm stumped because it's sometimes easier to start with a small canvas.
So for the 6 X 6, I started with a 6 X 6 piece of Real Red Stampin' Up cardstock and then used two small accent pieces from the Christmas Cocoa Specialty paper from the Holiday Mini Catalog.
Next I used the Top Note Bigz Die and my Sizzix die-cutting machine to create the small journaling area and then used the new Stampin' Up snowflake punch and clear rhinestone brads for an embellishment.
Next up, I needed to turn this page into this:
So I put the 6 X 6 page I started with and added it to a larger piece of Whisper white cardstock. I added some linen thread with a tag from the Christmas Punch hostess set. Then I attached the photos and taped the white cardstock to an 8.5 X 11 piece of Sahara Sand paper.
I cut out the title (which I just now realized is spelled wrong… Ugh, got to fix that!) with my Go Go Boots alphabet for the Big Shot. The snowflakes were punched out with the SU punch and glittered with dazzling diamonds glitter.
Lastly, I added a few more pieces of the Christmas Cocoa specialty paper to a 12 X 12 piece of Whisper White cardstock to create this: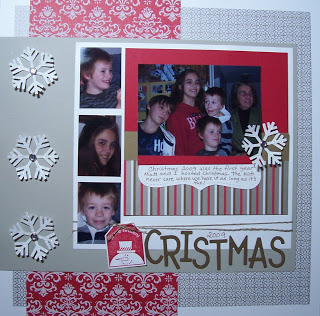 So there you have it… if it were not for the spelling error, I'd really like this page! Off to see if I can fix it… have a great night!