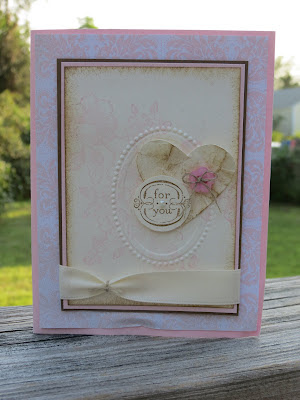 Hello. Happy Lazy days of summer… at least that's how I feel today. I had the day off and while I did have quite a few pre-scheduled appointments that got me up and out of the house this morning, the rest of the day has been one of those lazy, hazy days of summer. I've actually been hiding in my air-conditioned stamp room for a bit if I must confess… but I'm thinking I might head out to the beach for a bit in a while… we'll see.
In the meantime, I thought I'd share with you one of the cards I made for the annual Stampin' Up Artisian Award contest. This award is one of the greatest perks of being a Stampin' Up demo! You submit 10 projects (5 cards, 3 scrapbook pages and 2 3-D items) of your best work in hopes that you'll come out in the top 10 participants. Why, you ask? Well, the winner gets a $500 SU shopping spree, $500 in cash, a special dinner with SU co-founder Shelli Gardner and concept artists and usually a special little gift or two from SU. Sounds wonderful, right? I agree!
Oh, and I forgot… because they changed it up this year and made the Artisian Award winners – "design team members" – the winners also get a free box of SU goodies once a month to design projects with to inspire fellow demonstrators… how cool is that?? Wouldn't you love to get that happy mail?
I haven't submitted in a couple of years so this year I thought I would try my hand at it again. Unfortunately, with my Mom getting sick I never finished up my entries so I didn't enter — I thought I'd still show you the few I finished.
This was the first card I did… It features the Elements of Style Stamp set and the Twitterpated Designer Series Paper (both of which are still current!). I was going for a shabby chic style with this one and I think it worked. Very muted and simple with just a few little "extra" touches — like the embossed oval frame using my big shot, the inking of the heart, the ribbon bow tied into the button etc. Nothing too fancy, but I was hoping I showed that I paid attention to detail! 😉
I think I need to get started on this year's entries soon… I'm pretty quick with the cards and the scrapbook pages, but the 3-D items take some thinking outside of the box for me. I'll show you my other card and my 8 X 8 scrapbook page that I finished some time soon…
Would you like to compete for this coveted Artisian Award title?? It's easy! Just pick up the demo starter kit at a huge steal (just $99 for $125 worth of product of your choice) and scoop up the Spooktacular offer for August where you get an extra project kit for Halloween including a great artist's tray project and all the goodies (think more free stamps) to make it! You can then have almost a full year to get to work on your entries — not to mention make a bit of cash for the holidays if you host some card classes and other events….
It really has been one of the coolest things I've ever done (being a SU demonstrator I mean!). Want more info? Visit my
website
or
e-mail me
and I'd be happy to talk you through it. Or if you're ready to hop on board… visit
my site
and click "join the fun." It really is fun!