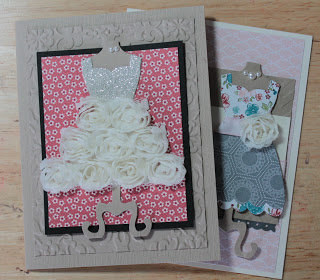 Oh my goodness… can I tell you how addicted I am to making these adorable little dress up cards using the All Dressed Up bundle from Stampin' Up? So stinkin' cute!
If you'd like to make some cards like these and you live local (Cape Cod) e-mail me so we can get you on the attendee list for my Stamp Night next week (March 21) at my house. We'll make four of these adorable cards (not sure if it will include these designs or new ones, but you will fall in love… promise!).
For these two beauties I used the Flower Trim from the spring catalog. We will certainly be using some of that during class! It's just so girly and fun! 🙂 I also used our silver glimmer paper — that stuff is blinding and oh so pretty. Of course none of these "outfits" would be complete without some pearls!
What's great about this bundle — it includes the framelits for the Big Shot and the All Dressed up Stamp set and if you purchase them as a set you save 20% on the full cost of the product. I love that Stampin' Up has started offering these bundles.
What I think I love about this bundle the most is that it reminds me of my Mom. When my sister, brother and I were kids… if we stayed home sick from school it meant we. were. sick. No tv. No games. Not even lying on the couch was allowed.
This one time when I must have been really, really sick (I never voluntarily stayed home sick) I was home from school and laying in bed when my Mom came home with a little booklet of paper dolls. I was so shocked (and thought maybe I was dying or something since my Mom did not encourage play time when we were sick!) that she brought these home for me after returning from her errands. I played with those paper dolls for weeks and weeks after my recovery.
Playing with this kit totally makes me think of my Mom and her out-of-character good deed so, so many years ago.
Be sure to check this kit out — I think you will totally fall in love with it and maybe make some fond memories of your own!