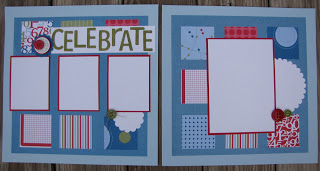 So no one caught my flub yesterday when I forgot to post. I actually didn't forget entirely. I remembered just as I was putting my head down on the pillow — which was just after midnight anyway — so I missed.
However, no one e-mailed me to tell me I missed — therefore the "crafty care package" that was up for grabs is still available! So let's get some comments going so someone can win it!! Remember, if I miss another day — e-mail the next morning to let me know and you get the crafty goodies…. and while your here leave some comments and if I make it all the way through to the Nov. 3 with no more misses, I'll draw a name and that person will get to keep all the crafty goods…
Anyway, I was working on some pre-made scrapbook pages for a customer request and came up with this bright, fun birthday design. Sorry the photo is a little distorted… the camera is acting a little screwy (or maybe it's blogger… not sure).
I used the Celebrations Designer Series Paper — I think it is really perfect for birthdays! I'll try and share a couple more of my scrapbook page layouts in the next couple of days…
Hope you are having a nice weekend!