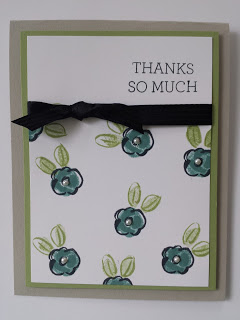 Hey there, stampers! Long time no chat. Why does that keep happening? You know what it usually is? I almost never go on my computer anymore… dang phones make getting email and checking Facebook so darn easy that I very rarely crack open the old computer and I haven't been able to get the blogger app to work on my phone.
Anyway, enough excuses… I'm here and I've got pretty things to show you! Did you catch my online catalog launch party last night? I had a lot of fun chatting with some crafty friends from all over New England! We spent about 2 hours sharing projects, winning prizes and watching videos!
This card is a super simple one that I shared with my online catalog party friends last night. I even did a VIDEO! Holy cow. In fact, I did three and I just uploaded the third video I created for the par-tay tonight (YouTube was being SUPER slow last night so I didn't get them all uploaded during our online time… but we still had plenty to talk about)! If you want to check it out, you can scroll through all our posts right here.
On to the card… I used the Garden in Bloom stamp set from the 2015|2016 Idea Book & Catalog. It's funny because I only bought this set because I wanted to recreate the cards pictured in the catalog (on page 119) and I've been having so much fun playing with the set that I haven't even actually copied the catalog cards yet! See what happens when you're having fun??
I'm not really going to walk you through this card because it's actually pretty simple and well, because I have a video for that! 🙂
Do you forgive me for being so MIA lately now that I'm actually sharing a video?? No? Oh alright, I'll try and come back soon! Have a great weekend and if you're looking to purchase the fabulous Garden in Bloom stamp set (or any other fun new toys!) you can find it right here.
See you next time!