It has been a ridiculously long time since I posted a scrapbook page. Honestly, it's been a ridiculously looong time since I've scrapbooked! That is so going to change for a couple of reasons that I'll explain in a moment.
This page is actually one I did several months back. In fact, I used the Merry Moments Simply Scrappin' kit from the Holiday Catalog last year.
How about I show you the first two pages I designed with this kit today and the other two in my next post? Sound good?
So back to why I will be scrapbooking more… first, is because I just signed up to attend a scrapbooking weekend in June for the first time in years (as a scrapbooker NOT a vendor)! To say I'm excited is an understatement. I miss scrapbooking. That was my original passion and now that I've inherited hundreds and hundreds of photos (honestly it's probably more like thousands), I can't wait to start making some pages!
The second reason why I'm going to be doing some scrapbooking in the very near future is because I'm launching a monthly Scrapbook Club! I'm so excited about this. I tried this years ago, but didn't have any consistency and got discouraged because I had low interest. I know now after launching a successful card class a few years ago that it takes time to build up an audience — particuarly with scrapbooking. It's a committment… but it is SO worth it!
Well, I'm totally re-energized because I met up with the wonderful Jennifer Williams from the Osterville Historical Society Museum and she has invited me to host my scrapbook classes at their building! It's this adorable old building in the heart of Osterville. The grounds are beautiful and so inspiring. What's so great about it is they are launching a new exhibit about heritage photos in the museum so it ties in perfectly with all of the heritage photos I need to pull together, organize and use to create some family pages. I'm totally excited. Although, I'm not so excited about the major spring cleaning that needs to happen in order for me to begin scrapbooking! But… it will be good!
Ok. On to the second page of the four pages I made with this super cute kit.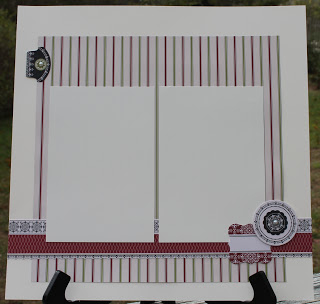 This one has a little more of a Christmas feel, but still could be used for photos that are not from the holidays. I love using the Simply Scrappin' kits for scrapbooking because it makes coordination so simply. Each kit has eight solid pieces of cardstock, six pieces of patterned paper and three 12 X 12 sheets of self-adhesive die-cut stickers that all coordinate perfectly.
I think the pages I made with this kit will actually work well with some of my heritage photos, too — although I'll probably have to adjust them a little bit as most of the old photos aren't 4 X 6 in size. I'll probably use the extra space for journaling on this page as I didn't really leave a whole lot of room for that on this one. Although, one of my favorite techniques is to journal around the outside edge of a page. Do you ever do that?
Want to see what we have for Simply Scrappin' kits right now? Click here to jump over to my online store and check it out. There's also this kit and coordinating products from the spring catalog. What do you have on your scrapbook "to do" list? Never scrapbooked? What questions do you have? Maybe I can do a Q & A series as we get closer to my first class!