Hey there friends! I hope you had a wonderful holiday. I'm just coming out of the fog of Christmas and wanted to pop in here to tell you some exciting news, and launch my brand new design of my blog. Do you like it? It's been a good six or so years I think since I first purchased one of the pre-made templates from Designer Blogs. If you're in the market for a new blog look, I'd highly recommend them. Their pre-made templates are only $15! (and if you use my link, I'd surely appreciate it as I am a part of their affiliate program).
This time, I went a little crazy and purchased a custom design… cost quite a bit more, but I really love it… My designer Kate did an amazing job. I also have to thank my friend Siewleng Hiraldo from Time2Scrap for my photo… her and I met up over the summer for a fun (albeit a little stinky… there was a smelly dumpster nearby) photo shoot. She did a great job (considering what she had to work with… wink, wink)! I'm hoping this will make me come back here and visit more often, too. I know I've been really bad about staying on top of the blog!
But, that brings me to my exciting news for today!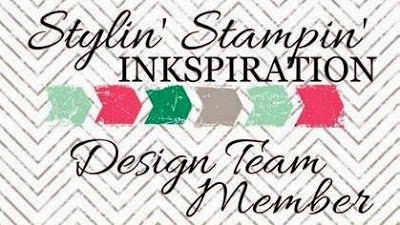 I was actually asked to be a part of the Stylin' Stampin' INKspiration Design Team earlier this month and I accepted! It was such a total shock and honor to be asked and I'm super excited to take part. It's a group of Stampin' Up demonstrators that will create and share projects three times a week (Monday, Wednesday and Fridays) and participate in a monthly blog hop — so lots of inspiration for you. I will be a part of every blog hop (they are on the second Thursday of each month) and participating in at least one of the SS INKspiration challenges each week. My first post is scheduled for Friday, January 6th so stay tuned! It will be posted here and on the Stylin' Stampin' INKspiration blog
here
. I'm not official until January 1st so you won't see anything from me until then, but be sure to check back here and on the SS INKspiration site often as you can play along, too!
Well, sadly my stamps have been largely neglected of late with the holidays and all. So I don't really have much else to share here yet other than my news and my new look. But you'll definitely want to make a visit to bytheshorestamping.com a more regular occurrance as it is soon to be a hoppin' place!
Until next time,