Howdy! Welcome back for another edition of 12 Days of Christmas Gifts!
Have you ever taken on a scrapbooking endeavor where you decided to create an album for someone to use — say, for a baby shower gift or a wedding gift? It's quite the undertaking, yes?
Well today's homemade gift idea is the perfect way to give people the gift of memories, but without the 6 months of prep work that it can take with a traditional scrapbook album.
If you have a new Mom (or soon-to-be), a new bride, or even just someone who love to take photos to remember all of the little things in life, creating a 6×8 Project Life album for them is a great gift.
The idea is this… you decorate and set up the cover of the album and then "prep" the inside, too, so that all your "gift-ee" needs to do is slip in some photos and his or her memories are preserved. Easy Peasy. Let's take a look inside a sample one… the one I'm showing you today is actually my December Daily album for this month, but you can use the same concept for any theme – whether it's documenting the first few months of a baby's life or just the everyday details of life.
So for the page to the right I used the Hello December Project Life Card Collection and the Hello December Accessory pack. For this album I actually numbered each page – one through 25 – so I can document holiday festivities for the 25 days of Christmas, but you wouldn't have to do that for an everyday album if you didn't want to. For, say, a baby album maybe each spread could translate into one week or one month of her life…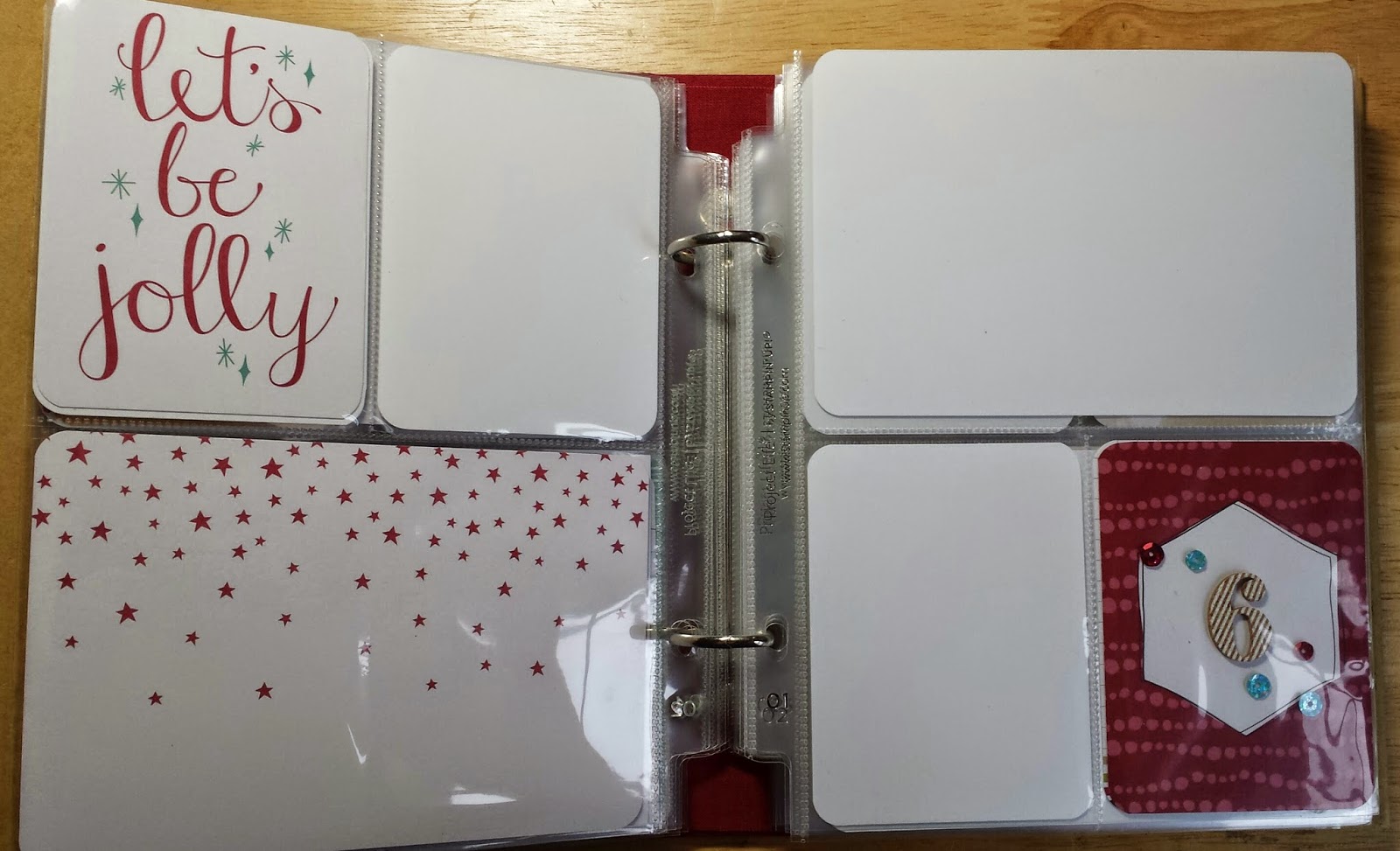 Anyway, you get the idea right? Each of the white cards above represents a photo so in each of these sample pages I have a spot for three photos. (I already have the photos taken, but I haven't printed them out yet!).
Here's another photo of the inside. This one is from December 6. The beauty of this "pocket-style" scrapbooking is that if I get to December 6 and I don't have festive photos to match the pre-designed layout I made, I just switch the little pocket cards around to better fit the happenings of the day… so much easier than pre-designing traditional scrapbook pages (don't get me wrong — I still love my traditional scrapbooking, too! Just this makes a gift SO much easier).
My suggestion for a "purchased" gift today is going to be the same — because perhaps you have someone on your list that would love this concept, too, but would like to set it up on their own (rather than having it pre-designed by you). So here are some suggested items to purchase if you want to try either of these gift ideas:
Early Espresso 6×8 album, #135293, $9.95
Variety Pack 6×8 pocket pages, $135297, $5.95 (I would suggest 2 or 3 pkgs. to fill an album)
Journaling Pens, #135304, $4.95
and then for an Everyday themed album I would pick either one of these card collections and accessories packs:
Everyday Adventure Card Collection, #135298, $15.95
Everyday Adventure Accessory pack, #135301, $9.95
or
Happiness Is Card Collection, #135307, $15.95
Happiness Is Accessory Pack, #135309, $9.95
For a baby themed album, you could try:
Little Moments Card Collection, #13599, $15.95
Little Moments Accessory Pack, #135302, $9.95
And for Wedding or Graduation this one would be great (Even though some of the cards will say "love-themed" things the back sides of the cards are always different, which makes this a great option for graduation albums):
Love Story Card Collection, #135308, $15.95
Love Story Accessory Pack, #135310, $9.95
Thanks for stopping by again today! I'll be back tomorrow with another idea for you… Right now I'm off to make some Christmas Cards! 🙂